You Can't Do Homework at 'Home' If You Don't Have Web Access
It may come as a surprise that many folks still do not have internet access at home. The Digital Divide is still a very real thing.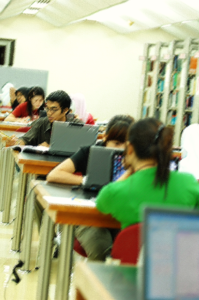 The numbers are improving quickly (up to 70% of US now does have broadband access) but there are pockets without regular access.  [Nonprofit Everyone On.org uses a 1 in 4 stat]  This is truer in some inner city areas, as well as rural areas not served by broadband.  38% of African American households, and 44% of Hispanic homes do not have high-speed access.  Yet more and more class work, projects or 'homework' calls for computer use, often submitting work to teachers electronically. So where do parents and kids turn for help?
Their local libraries of course!
Libraries have long been champions of both homework help and access to the Internet. As more schools and teachers put homework or supplemental work online, 'parents can't count on home for doing homework'.  They turn to local libraries for computers to use and web access to submit work. And they are often waiting long into the evening thanks to computer shortages (thanks to budget cuts + shortfalls facing many libraries).  The problem isn't just in the Miami-Dade area, featured in the above article.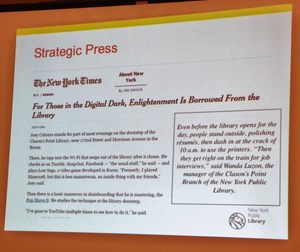 At a recent conference, NYPL's Angela Montefinise (Director of Media Relations) shared that there are many similar stories in New York.  Her media team was able to have several  featured in stories in the NY Times this summer. [Hopefully successful media relations leads to more funding and internet access!]
Students head to their local branch early in the a.m. to finish homework, come back in the afternoon and evening, and will hang around on the steps outside even after the library lights dim, just to use the library's wifi and continue working. Sure, sometimes they're also chatting online, playing games with friends, or searching YouTube. But isn't that what most kids and teens do in their downtime?
These kids just can't do that, or their new online homework, at home.
Libraries need to keep telling stories like these to counteract the image that they are only repositories of old books. Nothing could be further from the truth! Want a robot? Try Chicago's main public library branch. How cool is that?!
Most library users already know that today's libraries often look not much like the libraries of their youth. But the general public needs to get the story too – and good stories, told through media relations like NYPL, Chicago and Miami-Dade have achieved a great step forward.  Your smaller branches and county systems can do the same.  Find your stories and learn to tell them in compelling ways.
Want help telling your stories online? Check out my free guide on easier online writing .